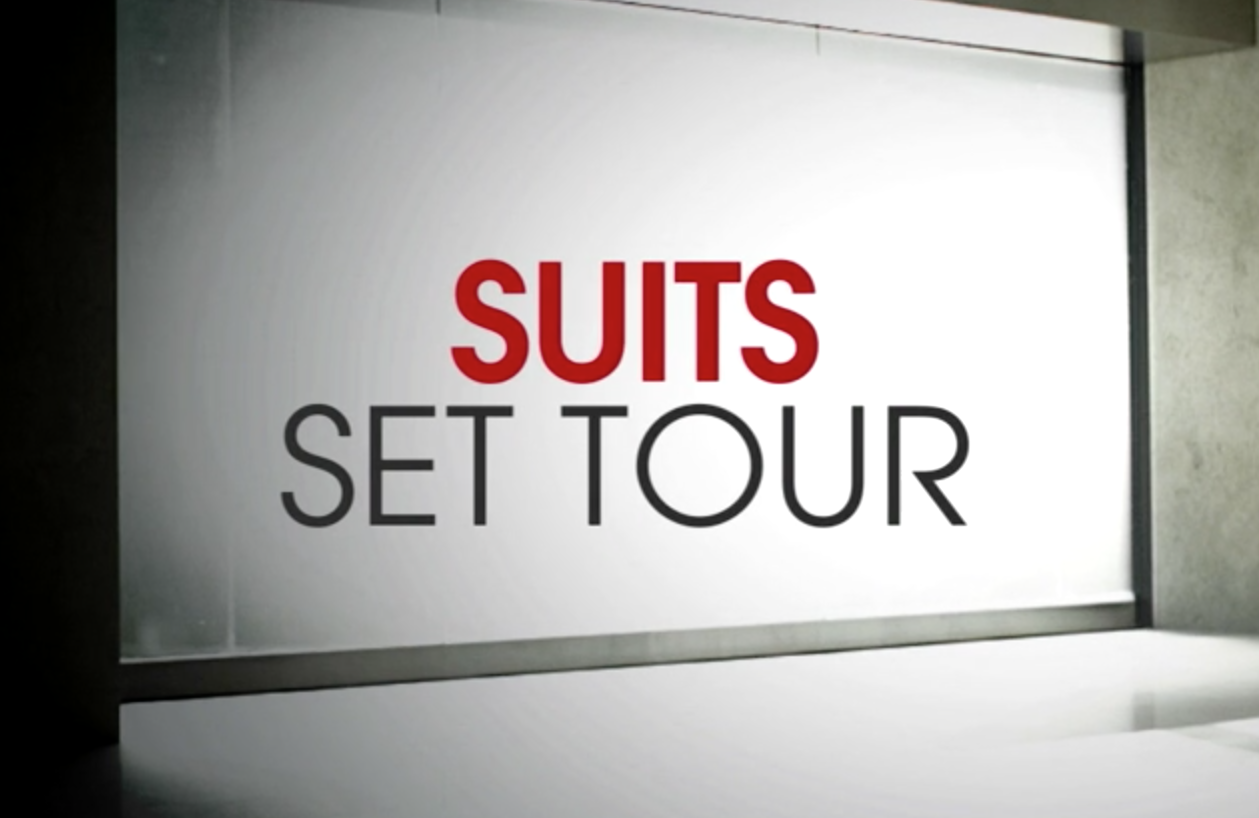 Other 2015-10-24 2016-02-23
Suits Set Tour HD
Behind the scenes set tour of Suits USA. from .
Patrick

Oh, hi, welcome, welcome to the set of Suits, I'm Patrick Adams, so happy that you guys could be here. Obviously, here, we're in the iconic lobby of Pearson Specter Litt, let's head on and see what…

Rick

Hi

Patrick

Rick, er, what's going on man?

Rick

I was just… just coming out, out the elevator, from… down…

Patrick

Were you just rooting through the garbage?

Rick

Man! No, why would I? First of all, I'm doing just fine, we're in our fifth season, I've saved my money and everything's good.

Patrick

whispers

Rick

Yeah, I put on my best.

Patrick

You look great, you look great.

Rick

So, you going to… going to do the tour?

Patrick

Why don't you join us?

Rick

Ok, I mean, I do know this place pretty well.

Patrick

Well, let's start with the, er, that.

Rick

Shall we?

Patrick

This is…

Rick

This is a desk, let's move on.
Sarah

Welcome to the file room! I know you want to know where it happened… I think it was right there.
Rick

This is Rachel's office. This is actually something worth showing. These are pictures taken by Patrick.

Patrick

Well, not all of them.

Rick

If you don't know, Patrick is an amazing photographer. That is true. The photos he uses are not just in here but in other places as well.

Sarah

This is a Patrick J. Adams, isn't it?

Behind

It is, yeah.

Sarah

This is Patrick's artwork, and I will steal it and put it in my car when the show gets cancelled.

Rick

There's also nude photos he takes of me, I'll show you those in a little while.

Patrick

That's for a different time.
Rick

And here's where all the magic happens, Patrick has to get to work.
Sir, sir, sir, you need ID before you can walk around.

Rick

This is Rob, as he likes to be called.
That's Fred.
And Tony, Tony loves a good sense of humour, we like to have a good time, don't we Tony!
It's Mark.

Rick

As you can tell, there's a lot of respect here, everybody respects everybody's job, they're about to shoot a scene.
Pardon me, excuse me.
Sarah

Louis Litt's office is full of pictures of Louis Litt, alone. Louis, Louis, oh hey Louis, what's up, I'm Louis, and this is the most fondled object on the entire Suits set—this creepy, creepy cat. And speaking of creepyness, I'd like to introduce you to our friend Norma. Weird.
Rick

Harvey Specter's office, now, I'm not allowed in here, Gabriel likes to keep his office, keep things like actually Harvey, so the fact that I'm in here right now, you know, he doesn't know, kind of a special moment.
Sarah

I have actually Instagram'd this and people have been upset, like, "You're ruining it for me! That's crazy, you're ruining it for me!" but basically New York City is a gigantic shower curtain. How awesome is that!
Sarah

Miles wants to show you where the magic happens. Come Miles, show us. This is one of the greatest closets in the world. Come on in! There is a wall of purses. Valentino! Armani. This is my friend Prada. This is Louis Vuitton. Jessica's purse. It actually is a fantasy closet, it's kind of absurd.
Rick

Patrick! Are you, are you preparing?

Patrick

I'm in character right now, I can't speak to you.
Just everybody be really still.
Stop looking at me like that!

Rick

I mean, you will be cutting, right?

Patrick

Be a professional and put your suit on! It's called Suits.

Rick

He gets killed in the next episode, he doesn't know it.