Leaderboard for Ask Different Winter Bash 2016
1st: Tetsujin (up 3)
2nd: grgarside (down 1)
3rd: patrix / klanomath (level / up 3)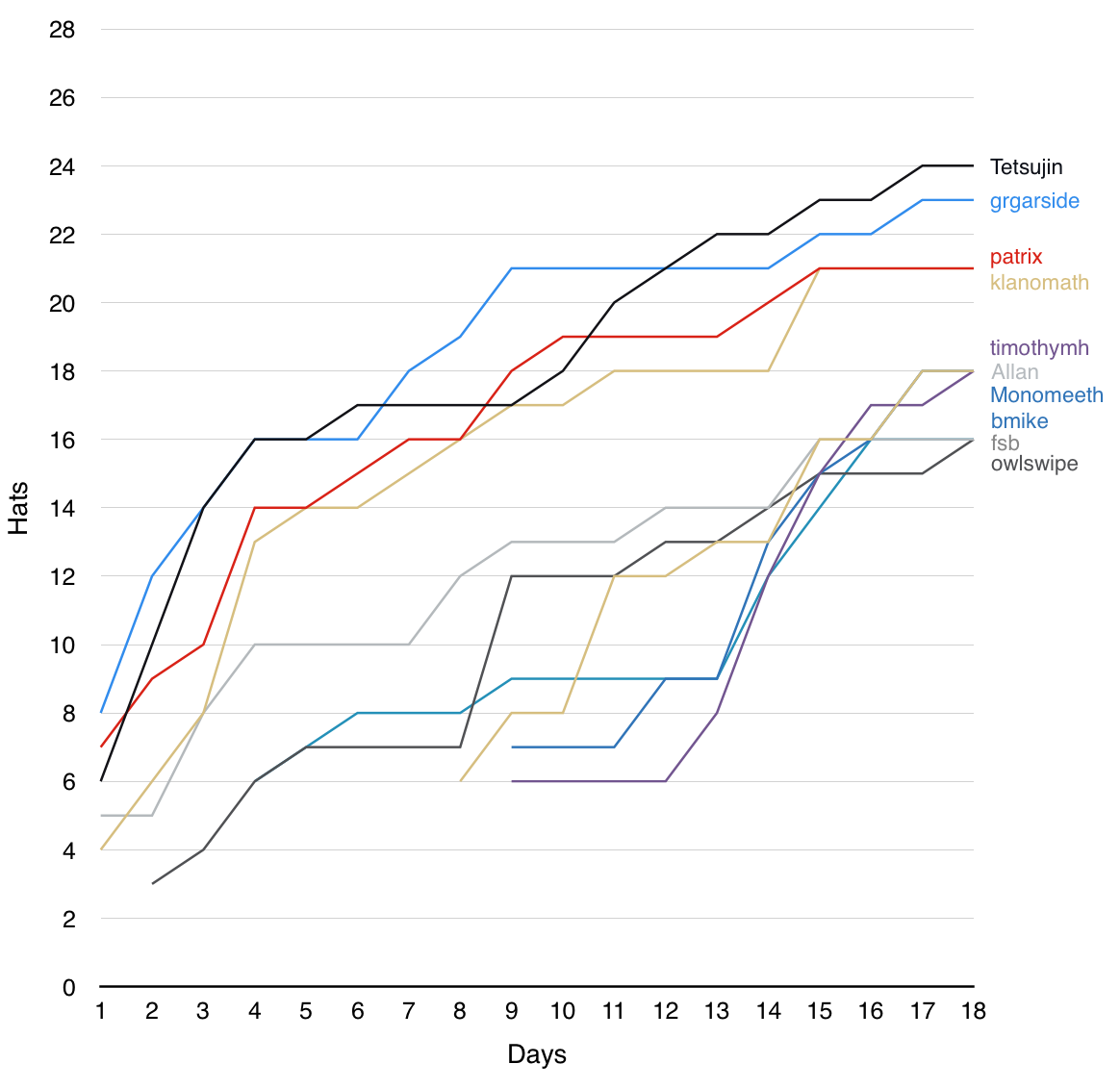 User Analysis
The graph shows the top 10 users at the time of the event closing. More data was collected and other users tracked than shown in the graph which may be interesting if you didn't make the top 10 this year. The raw data is preserved in the table below. Only users with a hat count above the number shown at the bottom of the row was tracked, however all users with a hat count above that number was tracked. This number was approximately two pages of the leaderboard. This was more data than was collected in 2015, as the previous year I only collected page 1. I hoped this would provide better historical record for those who 'jumped' up the leaderboard later.
The colour of the series in the graph are chosen based on the most prominent colour in the user's avatar at the time of last year's Winter Bash (so that graph colours can be tracked), or if not applicable, then the 2016 event opening.
I think it's interesting that there seems to be a 'chasm' created in the top 10 after only a few days, with a large gap appearing between the top 4 and the rest, which persists throughout the year and is not 'crossed' by any user.
Site Analysis
This year saw an increase in the number of hats earned and the number of users who were involved over last year. This year, 5,516 hats were earned by 2,197 users, up from 3,725 hats earned by 1,582 users for the 2015 Winter Bash. This year, I also tracked this over time, which is represented in this graph: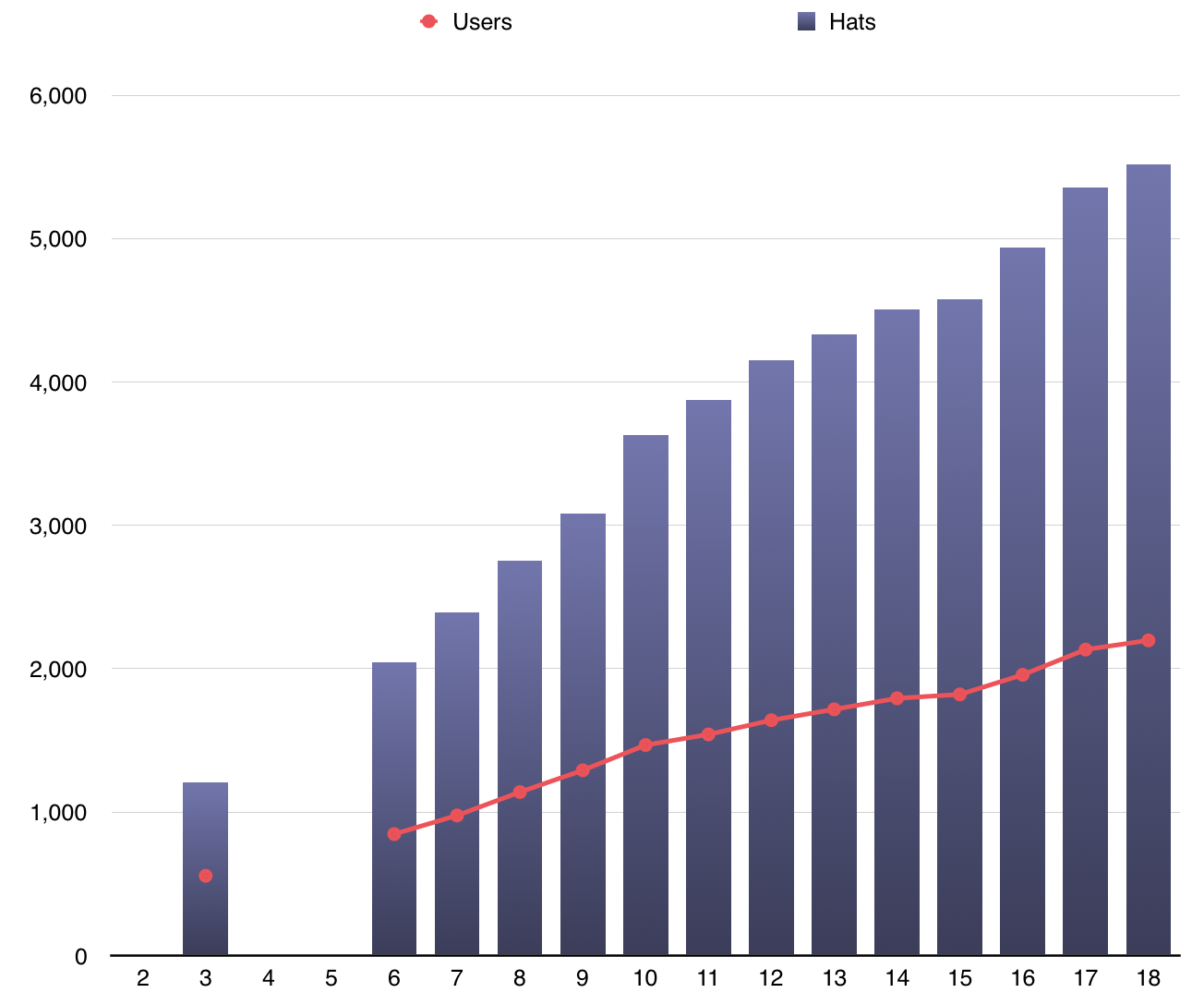 You can compare the results as a whole to last year by looking at the Ask Different Winter Bash 2015 Leaderboard.
Raw data
This is the raw data that was tracked from the leaderboard and used to create the graph.
1
2
3
4
5
6
7
8
9
10
11
12
13
14
15
16
17
18
Tetsujin
24
6
10
14
16
16
17
17
17
17
18
20
21
22
22
23
23
24
24
grgarside
23
8
12
14
16
16
16
18
19
21
21
21
21
21
21
22
22
23
23
patrix
21
7
9
10
14
14
15
16
16
18
19
19
19
19
20
21
21
21
21
klanomath
21
4
6
8
13
14
14
15
16
17
17
18
18
18
18
21
21
21
21
timothymh
18
6
8
8
12
12
13
13
16
16
18
18
Allan
18
6
6
6
6
8
12
15
17
17
18
Monomeeth
18
7
7
7
9
9
13
15
16
18
18
bmike
16
5
5
8
10
10
10
10
12
13
13
13
14
14
14
16
16
16
16
fsb
16
3
4
6
7
7
7
7
12
12
12
13
13
14
15
15
15
16
owlswipe
16
6
7
8
8
8
9
9
9
9
9
12
14
16
16
16
Mark
14
4
5
8
8
8
8
8
9
9
9
10
10
10
12
13
13
14
Panda
14
6
9
9
12
12
12
12
12
12
13
13
14
14
IconDaemon
12
3
4
6
6
6
6
6
6
6
6
6
7
7
10
12
12
12
Glorfindel
12
6
6
7
7
7
7
8
9
12
12
12
12
NoahL
10
7
7
7
8
8
8
8
8
8
8
8
10
Jaime S. C.
9
3
3
4
6
6
7
7
7
8
8
8
8
8
8
9
9
9
9
Tom S.
9
3
3
4
6
6
6
6
6
7
7
7
7
7
7
9
9
9
Community
9
3
4
6
6
6
7
7
8
8
8
8
8
8
9
9
9
9
Alexander O.
9
9
9
9
9
9
9
9
9
9
9
9
9
9
Kent
9
6
6
6
6
7
7
7
7
7
8
8
9
John N
9
6
6
6
6
7
7
9
nwinkler
8
3
3
4
7
7
7
7
7
8
8
8
8
8
8
8
8
8
8
user343984
8
3
4
6
6
6
7
7
7
7
7
7
8
8
8
8
perhapsmay.
8
6
6
6
6
7
7
7
8
8
8
8
8
Alessandro T. T.
7
3
3
4
6
7
7
7
7
7
7
7
7
7
7
7
7
7
Hugo
7
3
4
6
6
6
6
6
6
6
6
6
6
6
7
7
7
kenorb
7
4
6
6
6
7
7
bjbk
7
6
6
6
6
6
6
7
7
Ralph J
7
6
6
6
6
6
6
7
7
Patience
7
6
6
7
7
JWB
7
7
7
Stephen L.
6
3
4
6
6
6
6
6
6
6
6
6
6
6
Steve C.
6
4
6
6
6
6
6
6
6
6
Dan H.
6
6
6
6
6
6
6
Min hats recorded
3
3
4
6
6
6
6
6
6
6
6
6
6
6
7
7
7
8