Leaderboard for Ask Different Winter Bash 2015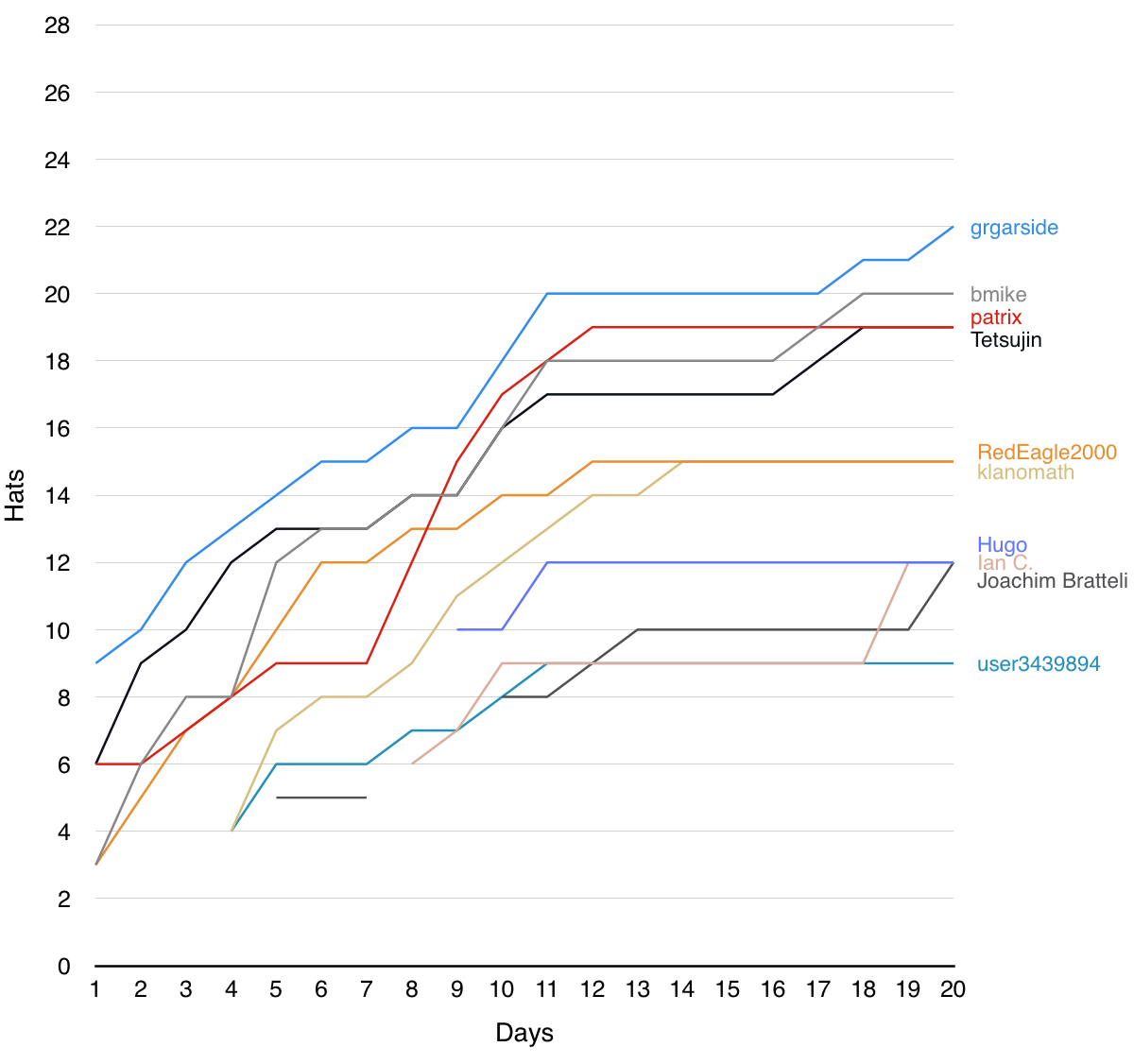 Discussion and Analysis
Winter Bash 2015 ran for 20 days, from 14th December 2015 until midnight on 3rd January 2016. Over that time, 3,725 hats were earned by 1,582 users.
This focuses on the top 10 users at the time of the event closing is included in the graph, however more data was tracked than is present in the graph, and the raw data is preserved in the table below. Only users with a hat count above the number shown at the bottom of the row was tracked, however all users with a hat count above that number was tracked1. This number was approximately page 1 of the leaderboard: occasionally including a couple of users on page 2, but most of the time not including every user on page 1.
The colour of the series in the graph are chosen based on the most prominent colour in the user's avatar at the time of the event opening.
Awards:
1st: grgarside, 2nd: bmike, 3rd: patrix/Tetsujin
Leaving it late: Joachim Bratteli, who moved from 9th to joint 7th on the last day of the event.
Runner up: Ian C., who moved from joint 10th to joint 7th on the penultimate day of the event.
Consistency: grgarside, the only top 10 user not to change position throughout the event (those not tracked earlier would have been below users who were tracked)
Diversity: Hugo, the only user in the top 10 (and likely much further) to earn Do It Yourself (answer own question, both +3), Field Work (nice question asked via the app), Onion Knight (a secret hat) and Explorer (first post, +3, 3 days old).
Runner-up: grgarside, the only user to earn Vote Early, Vote Often (250 votes on 7 consecutive days) and Odinson (a secret hat).
Best fitting: Ian C., a completely opinion-based award for this very nice combination of avatar and hat:

---
1 There were a couple of bugs with the first couple of days of tracking. The data recorded is accurate but some people were missed even though they met the minimum hat requirement of that day. Again, this only applies to days 1 and 2, and hopefully not 3.
Raw data
This is the raw data that was tracked from the leaderboard and used to create the graph.
1
2
3
4
5
6
7
8
9
10
11
12
13
14
15
16
17
18
19
20
grgarside
22
9
10
12
13
14
15
15
16
16
18
20
20
20
20
20
20
20
21
21
22
bmike
20
3
6
8
8
12
13
13
14
14
16
18
18
18
18
18
18
19
20
20
20
patrix
19
6
6
7
8
9
9
9
12
15
17
18
19
19
19
19
19
19
19
19
19
Tetsujin
19
6
9
10
12
13
13
13
14
14
16
17
17
17
17
17
17
18
19
19
19
RedEagle2000
15
3
5
7
8
10
12
12
13
13
14
14
15
15
15
15
15
15
15
15
15
klanomath
15
4
7
8
8
9
11
12
13
14
14
15
15
15
15
15
15
15
Hugo
12
10
10
12
12
12
12
12
12
12
12
12
12
Ian C.
12
6
7
9
9
9
9
9
9
9
9
9
12
12
Joachim Bratteli
12
2
5
5
5
8
8
9
10
10
10
10
10
10
10
12
user3439894
9
4
6
6
6
7
7
8
9
9
9
9
9
9
9
9
9
9
Mark (Identicon)
9
4
5
5
5
7
8
9
9
9
9
9
9
9
9
9
TheBro21
9
7
8
8
8
8
9
9
9
9
9
9
Arc676
9
7
8
8
8
8
8
9
9
9
9
9
MrMojoRisin
8
7
8
8
8
8
8
8
8
8
8
8
8
8
IconDaemon
8
5
6
6
7
7
7
8
8
8
8
8
8
8
8
8
8
8
Charlie74
8
5
5
5
6
7
8
8
8
8
8
8
8
8
8
8
Mark
8
5
5
6
7
8
8
8
8
8
8
8
8
8
Behdad
8
7
7
8
8
8
8
Arunkumar TK
8
7
8
8
8
8
Andrew Larsson
7
5
5
5
6
7
7
Tom Geweke
7
4
5
5
5
6
7
7
bassplayer7
7
4
5
5
5
7
7
Community
7
2
4
5
5
6
6
7
PeterJ
7
7
user24601
7
4
4
4
4
5
5
5
daniel Azuelos
7
Graham Miln
6
2
2
2
5
6
6
6
orkoden
5
4
5
5
Min hats recorded
2
2
2
4
5
5
5
6
7
7
7
7
8
8
8
8
8
8
8
8