System-wide
You can now drag any menu bar item, including third party menu bar items and the Spotlight item. Hold command and drag any menu bar item along the bar to reposition it. It seems the only menu bar item that can't be repositioned is the Notification Center item, but all the others can. Third party menu bar items can't be dragged off the bar like first party items can, but rearranging works well.
Mission Control gestures and message
When sliding on the trackpad to invoke Mission Control, the animation now responds to the position of your fingers. Similarly to how it was updated for Show Desktop, you can now hold the animation on the trackpad and reverse it mid-animation. Also, you can slide the wrong way and the UI will react.
Also, if there's no windows shown in Mission Control, there's a new No Available Windows message similar to that used when split-screening apps.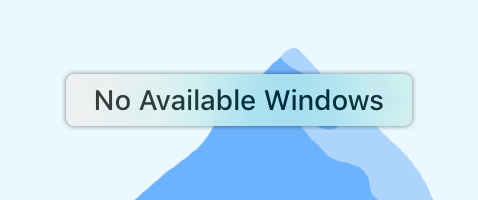 Wi-Fi Suggestions
When connected to an unsecured Wi-Fi network, a new option appears in Apple's AirPort menu bar item menu called Wi-Fi Suggestions, which shows the following page. Presumably this is expanded further but I'm unable to have it shown for other cases.
Unsecured Network
Unsecured networks expose all unencrypted network traffic. Learn More.
Configure your router to use WPA2 Personal (AES) security type for this network.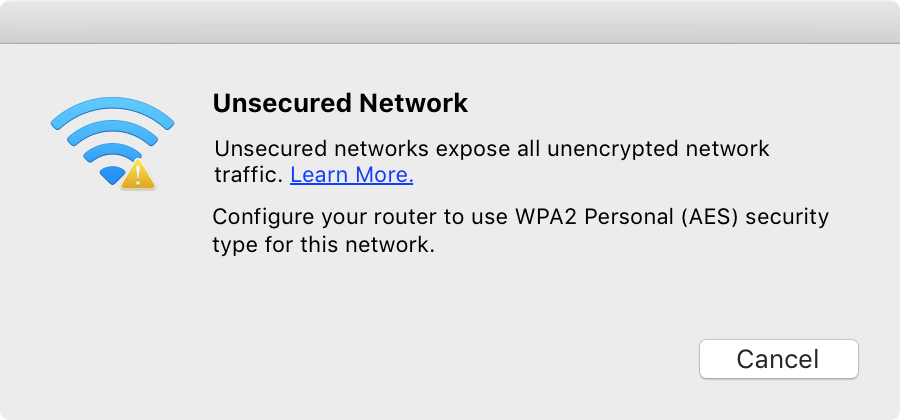 Install from Anywhere missing in Security & Privacy
The option to allow apps to be installed from anywhere without codesigning without needing right-click Open to surpass Gatekeeper has been removed from the Security & Privacy System Preference pane. It can be re-enabled by running sudo spctl --master-disable (in Terminal).
Sticky window edges
Window edges are now sticky to the sides of the display, and to the Dock and menu bar. This means that it is easier to drag windows around without them veering off course away from the menu bar, and also means that windows are easier to position against the sides of the display. Whilst this does seem to go against Apple's constant push towards using Full Screen Apps in an effort to make us use our Macs like iPads, this is a welcome change for me even if it does take a bit to get used to. This is especially given how 'sticky' the menu bar seems to be — one would think they would use direction of mouse movement rather than simple perpendicular displacement to work out whether to stick or not, but maybe 10.12.1…
Data Detectors can be enabled/disabled
You can now enable and disable Data Detectors on pages by right-clicking and choosing Substitutions → Data Detectors.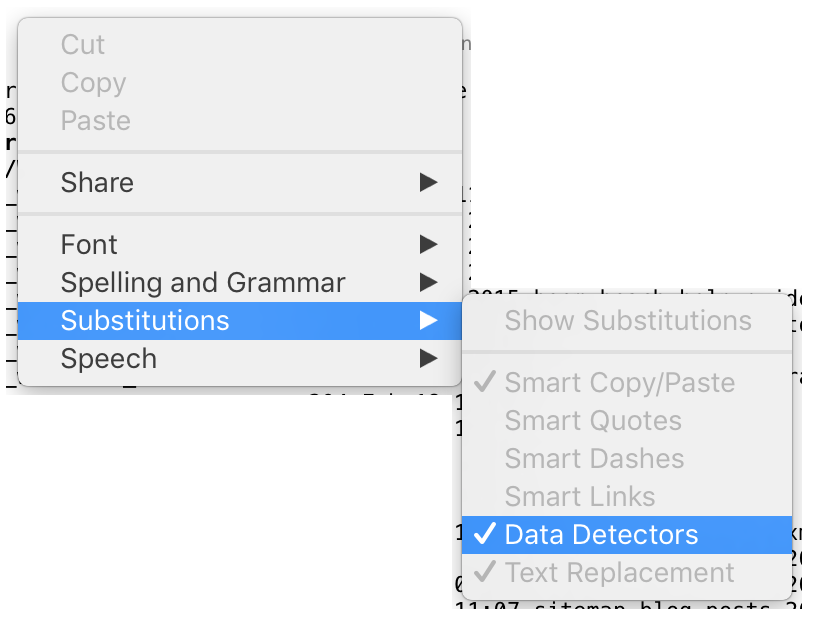 New option for tabs in Dock preferences
In System Preferences → Dock, you can select to prefer tabs when opening documents always, in Full Screen only, or manually.

Safari.app
Allow websites to check if Apple Pay is set up
A new option in Safari Preferences → Privacy allows websites in Safari to check if Apple Pay is configured on a Handoff device capable of authorising transactions on the website. This could allow a website to make payments through Apple Pay but could also be used to see if the user is an Apple Pay user, which may not be something you'd want told to every website.
Recently closed tabs
Safari was the first to bring command-z Undo Close Tab to re-open the last closed tab and all its tab history. Apple has expanded this further with the ability to re-open older tab sessions by holding (and possibly invoking Force Touch) on the + new tab button in the tab bar. This brings up a Recently Closed Tabs list which allows these sessions to be opened again.
Safari bookmark descriptions
Bookmarks in Safari can now have associated descriptions which helps searching for bookmarks later on. These descriptions can be added when creating a new bookmark or editing an existing bookmark.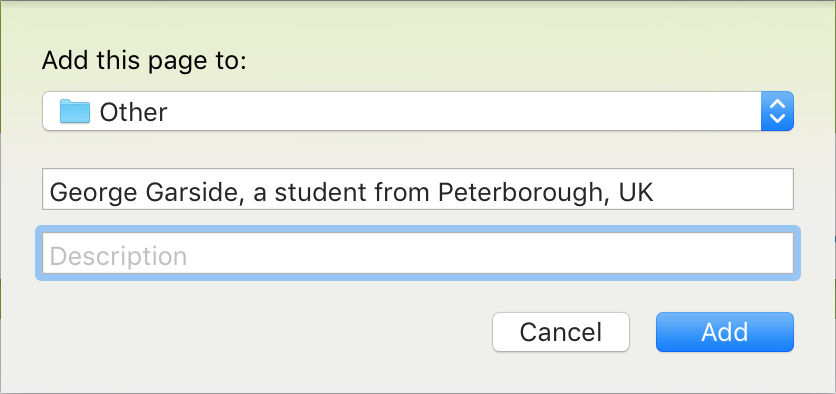 New Safari bookmarks UI
There's a new UI for bookmarks in Safari, available from Bookmarks → Edit Bookmarks.

Finder.app
New sorting option in Finder to keep folders on top when sorting by name, accessible from Finder Preferences. This brings sorting more in line with Windows, but I've always preferred Apple's sorting of folders amongst files in macOS Finder. At least there's an option for it now, if you so desire.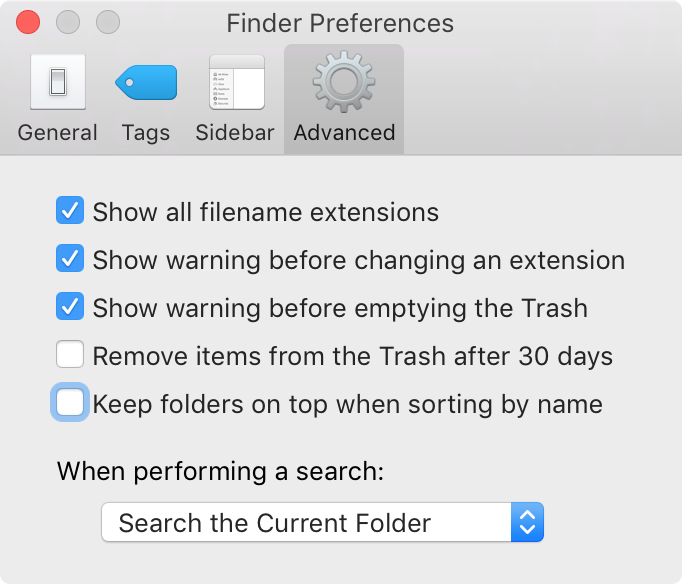 Notes.app
Text added to notes is highlighted
If you add text to a note on another device, it is highlighted with a yellow background colour to distinguish that it's just been added to the note. This highlighting disappears after a few seconds.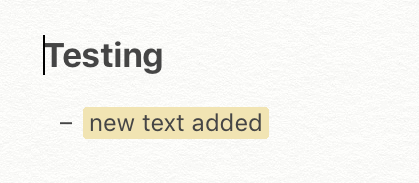 Extensions for images in Notes
There's now a button in the top right of an attachment in a note which can be used to push the attachment through an extension. This makes it quicker to markup an attachment in a note using the Markup extension, or use the Repair Tool in Pixelmator.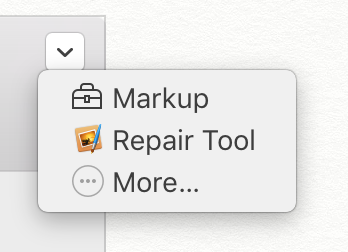 Disk Utility.app
The Disk Utility now supports RAID again, and you can resize the window. Still doesn't make up for the removal of the Yosemite Disk Utility, and this was broken in Sierra as the Yosemite app crashes on launch. If you want to use OS X Yosemite Disk Utility in macOS Sierra, you need to replace /System/Library/PrivateFrameworks/DiskManagement.framework/Versions/A/DiskManagement with the one in El Capitan, then you can open the older Disk Utility again, which you can obtain from a machine running Yosemite, or a Time Machine backup from Yosemite. I don't think you should be trusting people off the internet to provide you with either of these files. You'll need to disable System Integrity Protection for this, even if you have before as Sierra re-enables it with the upgrade.
System Information.app
Disk usage browser
You can now browse your disk to search for large files using System Information's file browser, accessible from  → About this Mac → Storage → Manage → Documents → File Browser. This is a quick way to find large folders on your system and works really well, (mostly) replacing the need for software such as Daisy Disk, unless you're willing to pay for the pretty visualisation.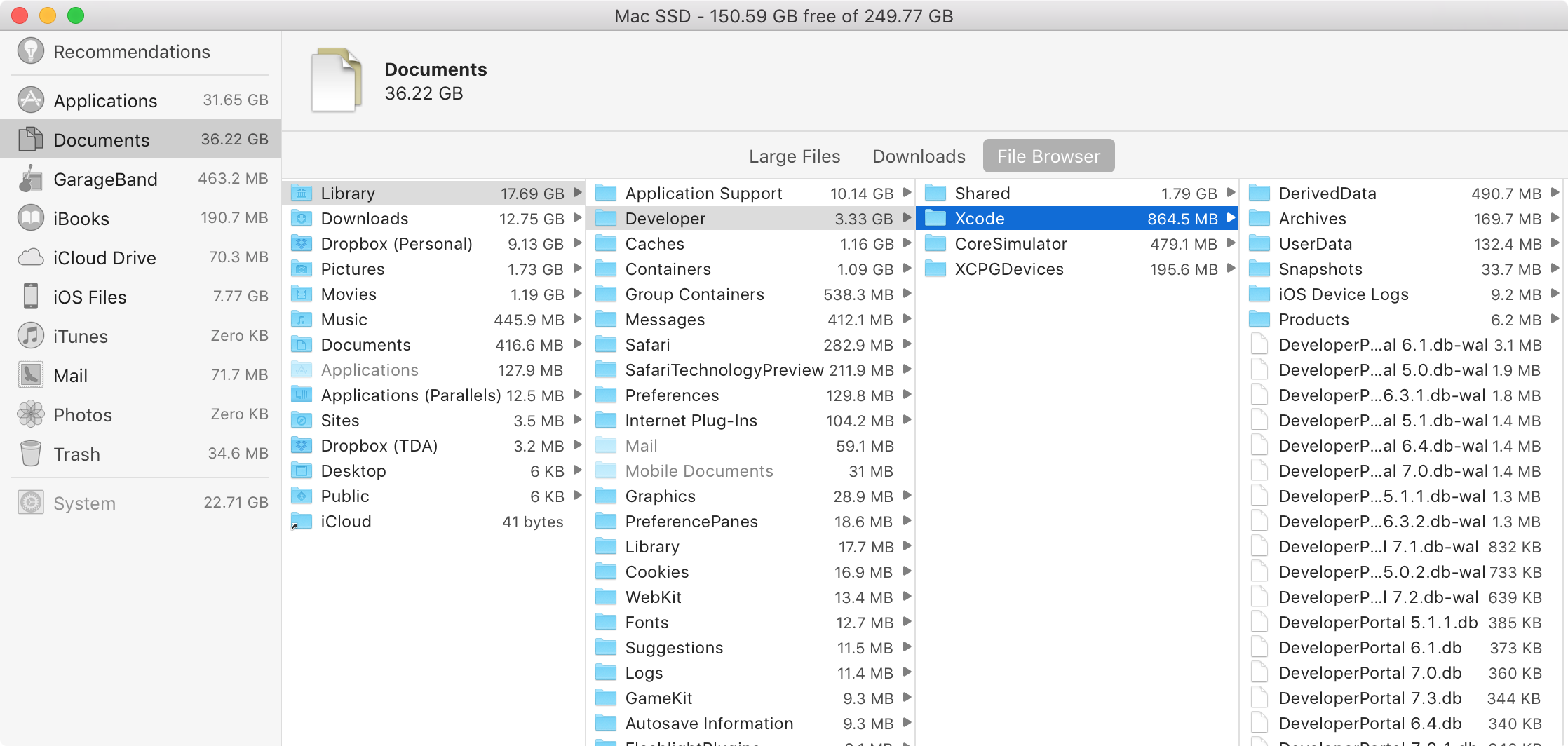 Console.app
macOS Sierra includes a completely re-designed Console.app, with support for Activities and reading logs from external iOS devices. Click to expand the images.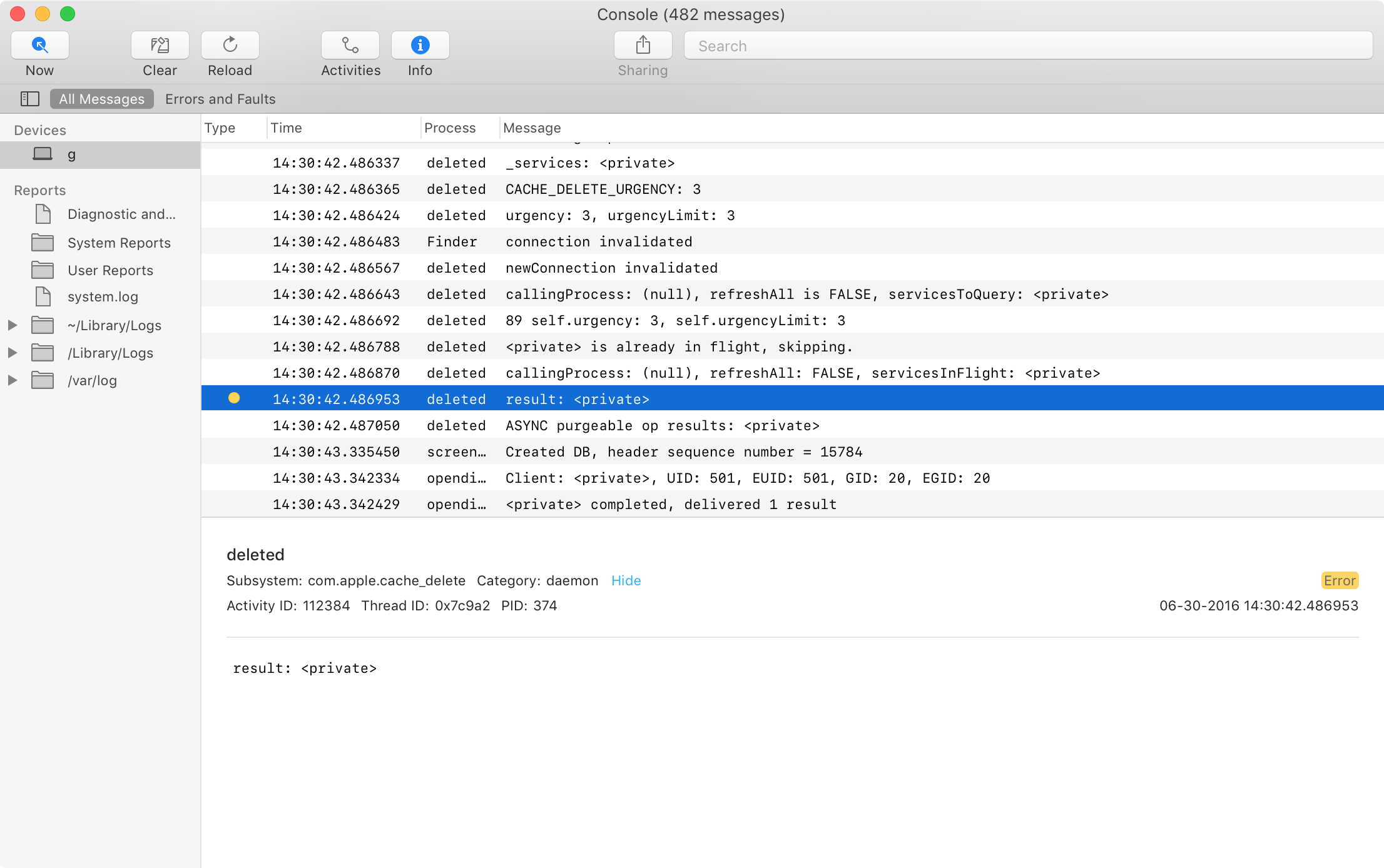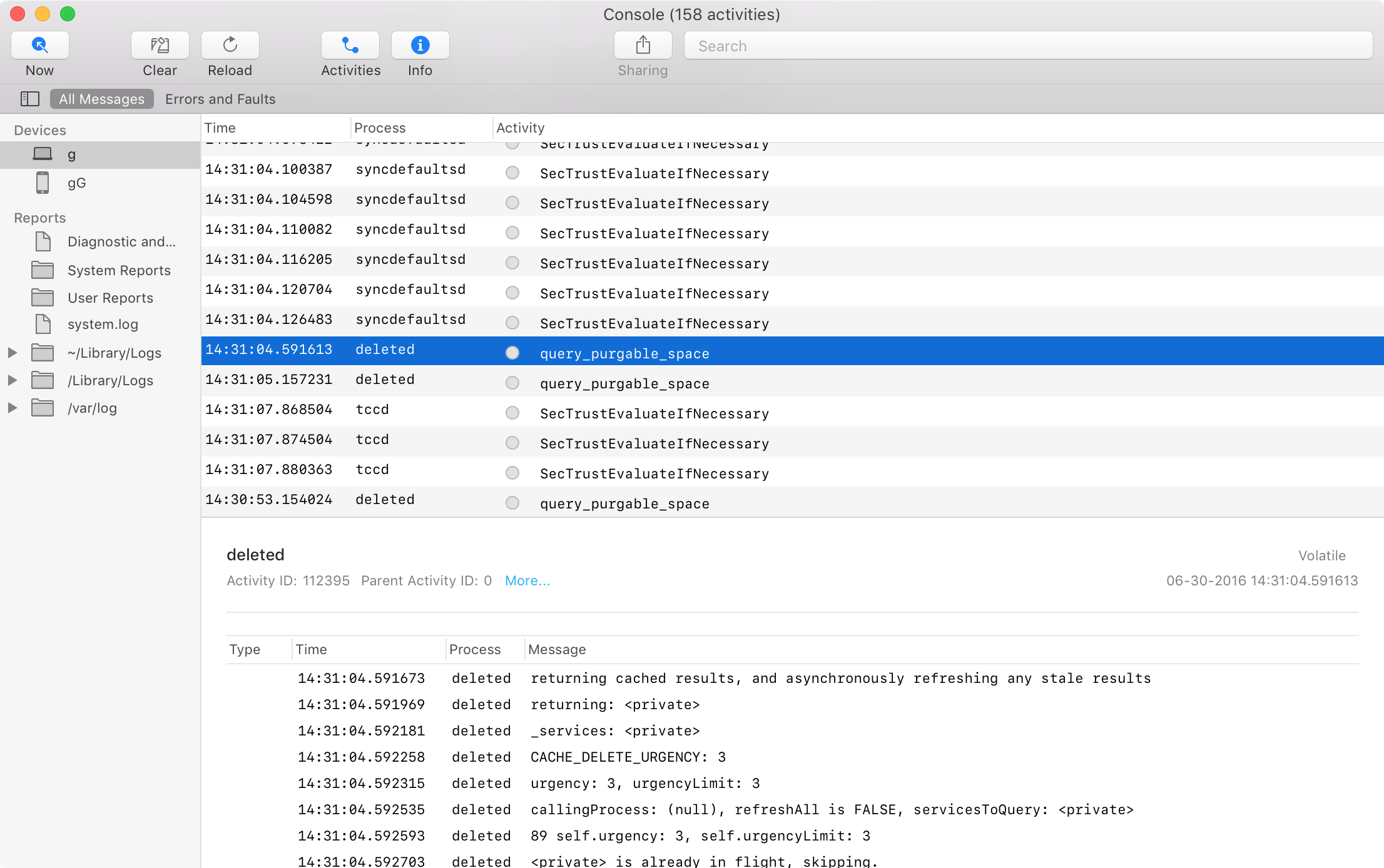 Installer.app
You can now delete installation packages after installation is complete in a new completion sheet in Installer.app.
Do you want to move the package Package to the Trash?
Installer can automatically move this package to the Trash. To leave the package in its current location, click Keep.

iCloud Documents & Data details
Apple has clarified exactly what documents are synchronised to iCloud if you enable the option to Store in iCloud. The list is quite varied but not all-encompassing, leaving out a variety of files.
Old documents, presentations, word processing documents, text files, spreadsheets, clippings, Mail attachments
JPEGs, PNGs, RAWs, screenshots, full-resolution photos
Home videos, books in iBooks you've read, ePub books you've read, iTunes songs you're not listening to, iTunes U courses you're not using, played iTunes podcasts, movies in iTunes you've watched
Mac App Store apps you're not using, fonts you're not using, dictionaries you're not using
Instructional system videos, languages you're not using
There's also a list of files that are simply deleted:
Trash after 30 days, Mac App Store, iTunes & iBooks inactive downloads, Apple Music playback caches, redundant Mail data
Quick Look thumbnails, cached iBooks covers & animations, cached map tiles, Safari web caches & archived Safari Reading List
Old iPhone backups, iTunes IPSW files, iTunes orphaned database temp files, Configurator iOS files & inactive downloads, Xcode caches
Previous OS X installers, event logs, state dump logs, fault and error logs, persistent logs